Office Manager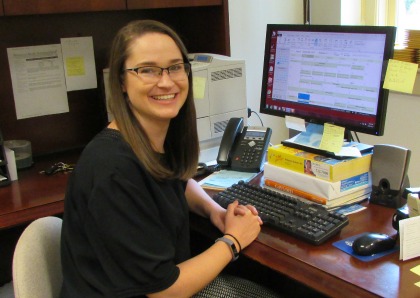 Office Manager/ Executive Assistant/ Program Associate
Sarah is your main contact for orders of music, books and CD's, lending library, donations, payments, and general information, including scheduling of research projects and meeting requests.
sarah@moravianmusic.org
336-725-0651
---
Sarah is a member of Home Moravian Church and Director of Music at Macedonia Moravian Church in Advance, NC. She is a 2016 graduate of Moravian College (now, University), with a degree in music.
During her time at Moravian she worked for the Moravian Historical Society and Moravian Archives in Bethlehem, as part-time front-desk secretary; she managed gift shop sales, worked with the files and record-keeping; assisted with cataloging project; helped organize volunteers and assist researchers. At Moravian College's music department she worked as music librarian, managing student employee work schedules; as choir librarian and secretary; and as concert advisor, overseeing program distribution, set-up and take-down and stage execution. As a SOAR student (Student Opportunities for Academic Research) at Moravian College, she worked with Gwyn Michel (MMF) on music editing and research, and she also assisted as an intern with Gwyn at College Hill Moravian.