Moravian Music Sunday
May 10, 2020
In light of current guidelines, you may want to consider a date, later this year, for your
Moravian Music Sunday!
Easily planned with provided resources and materials for a worship experience for your congregation; this page and shared resources will remain active throughout 2020.
The Rev. Nola R. Knouse and the staff of MMF led Moravian Music Sunday worship service on Moravian Church Without Walls on June 7, 2020.
---
Sing to the Lord, All the Earth!
Tell God's Salvation from Day to Day!
On this day, set aside to acknowledge our Moravian musical heritage,
we lift our hearts and our voices in praise and thanksgiving.
Recognizing that music is a means of proclaiming the Gospel,
we celebrate Moravian Music Sunday on the fifth Sunday of Easter, which, in 2020, is May 10.
---
Scroll down for all provided materials!
---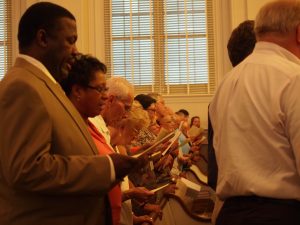 Through our singing we respond to God in faith, in love, and in hope. Whether we're singing old songs or new ones – whether we're charming the angels with our song or can't carry a tune in a bucket – we're called to praise God with our voices. And as we sing and hear one another, we are called to praise God for God's actions and for each other as companions in our life of faith.
We are grateful that God gave us the gift of music, an audible form of comfort, celebration, and worship which connects us to our past, and binds us to one another, and to our God. Let us all praise the Savior with music, in thanksgiving for all God's mercies.
On this day, set aside to acknowledge our Moravian musical heritage, we lift our hearts and our voices in praise and thanksgiving. We express our thanks to the musicians among us who create and arrange, who organize and direct, who nurture and teach, and who play and sing. And, especially, we give thanks to God for the cherished gift of music. May it be so!
The Moravian Music Foundation provides all the materials for a service featuring and celebrating Moravian music, below:
To help in your planning, we're including the following items:
A suggested order of service, which can easily be adapted for use in a lovefeast;
A short liturgy for Moravian Music Sunday;
A "statement to be read" which focuses attention on Moravian music in the perspective of faith and worship;
Information regarding music suggested for Moravian Music Sunday; and
A camera-ready "front-and-back" bulletin insert, describing Moravian music and the Moravian Music Foundation.
To print, click on the document, below, and then click on the download icon; from there, you can print or download the document.
---
Worship outline and music suggestions
Bulletin Insert in color or b&w
Moravian Music Sunday liturgy and insert
REMEMBER:
There are many Moravians living today who are writing hymn texts and music, anthems, instrumental music, sacred songs, and all sorts of music – probably someone in your own congregation! While we are offering some suggestions for specific hymns and anthems, we encourage you to seek out those gifted composers and authors in your own congregation and celebrate their gifts.
---
Statement to be read; Special Hymn for Moravian Music Sunday
---
We would appreciate receiving bulletins or reports on what you choose to do for Moravian Music Sunday. What you do may serve as a model for someone else!
Many thanks, and may God continue to bless your ministry!