Sing, O Ye Heavens
Moravian Music- & Instrument-Making
This Exhibit will be open through the end of the year! May 29, 2018 – Dec 31, 2019
Free Admission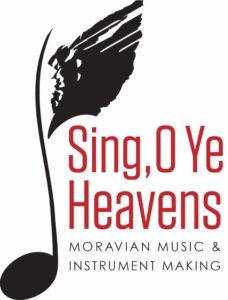 When Moravians settled in Pennsylvania during the 1740s they brought with them
a rich tradition of sacred music that was an essential part of Moravian life.
Besides composing music for their own use,
Moravians were also skilled instrument makers.
http://www.moravianchurcharchives.org/programs/exhibits/
This exhibit will feature a 1763 cello, made in Bethlehem by Moravian instrument maker
and composer John Antes. This recently discovered instrument is the oldest known
violoncello made in America; it will be on public display for the first time in its history.
Stop in and see original Moravian musical compositions, the 1763 John Antes cello,
David Tannenberg organ pipes, and dive into the rich history of Moravian music.
41 W. Locust St., Bethlehem, PA
Open Monday- Friday 8:00 am- 4:30 pm (except holidays)