---

Fun and Informative!
As part of MMF's educational mission, informative lectures are offered, free to the public, on the 2nd and 4th Thursdays of the month. MMF plans and presents the 2nd Thursday and the Moravian Archives plans and presents the 4th Thursday. Talks will cover a variety of research topics, spanning music history, musicology, and biography or provide information about MMF projects and programs.
… in the Spaugh Lecture/Recital Hall of the Archie K. Davis Center, 457 S. Church St. (behind Cedarhyrst at the gates of God's Acre). Parking is easiest in the Salem College Fine Arts Center/Home Church/God's Acre parking lot.
[use 500 E. Salem Ave. to find our parking entrance by GPS] DIRECTIONS
Enter the building at the postern gate.

---
The schedule will be populated with the titles and speakers as those are confirmed.
| 2023 Dates | Title | Speaker |
| --- | --- | --- |
| Sept 14 | 111 Listening to Lieder | Dr. Tyler Smith |
| Sept 28 | 112 Vault Tour of Moravian Church Archives | Sabrina Garity |
| Oct 12 | 113 MMF | |
| Oct 26 | 114 MA | |
| Nov 9 | 115 MMF | |
| Dec 14 | 116 MA | |
All Talks are Thursdays at 12:30pm
Thursday Talks at the Archie K. Davis Center

As part of our mission to celebrate and share Moravian music and its history we are relaunching our lecture series under the name "Thursday Talks at the Archie K. Davis Center." This program aims to serve as an introduction to who we are, while also highlighting the work and scholarship being done at the Moravian Music Foundation. The biweekly series will run from January to May (the second and fourth Thursday) and include both traditional lectures, as well as lecture-recitals, involving both performances and talks. Topics to be covered include: an introduction to Moravian music, the life and works of specific Moravian composers, and the connection of Moravian music to contemporary trends of the time. As in the past, the series will be offered in collaboration with the Moravian Archives, Southern Province to highlight all the work that is happening at the Archie K. Davis Center. Following a summer hiatus, the series will return in the Fall running from August to December with the possibility of expanding the speakers to include students and researchers doing work connected to the Foundation.

One goal of this relaunch is to inspire people to return to the building. To facilitate this, and to encourage a sense of fellowship, we will be offering refreshments for those who are able to attend in person. Our mission with the series, however, is to reach as broad of an audience as possible. For this reason, we will livestream and record the talks for those unable to physically come to the building. Videos of the recordings will be posted on various social media channels and housed on both our website and YouTube page, creating a repository of talks that can be accessed at any time. In addition, the audio will become part of a new podcast on Moravian music and its history that is in development.

For the final talk of the spring season in May, we will be inviting a special guest speaker to present a keynote address. This occasion will feature an opportunity to meet the speaker and have a lunch. We also see this as a point of collaboration with Old Salem Museums and Gardens and an opportunity to grow our reach and meet a new audience. In choosing our speaker for this event, we are seeking to highlight the work of a scholar from an underrepresented group and/or a topic that has received little attention in the past.
Generous Support for our Thursday Talks
was provided by
While our lectures are packed with information, they are concise and move at a quick pace. We keep it light and fun, presented with lots of visual aids, listening, and light refreshments!
HANDICAPPED ACCESS, ELEVATOR ACCESS, and for anyone who needs to save some steps or shorten their walk:
Once you have parked in the Salem College/A K Davis Ctr/God's Acre parking lot (see Directions), follow the brick ramp and approach the building on the lowest level (postern gate) and press the CALL button. The intercom is active, and someone will either come down the elevator to let you in the building, or "buzz" you in (simply pull the door open).
Video Lectures & Documentaries
All lectures have been recorded and are available to the public. Our newest videos are like documentary films, with slides, music, and video to enhance your understanding and enjoyment.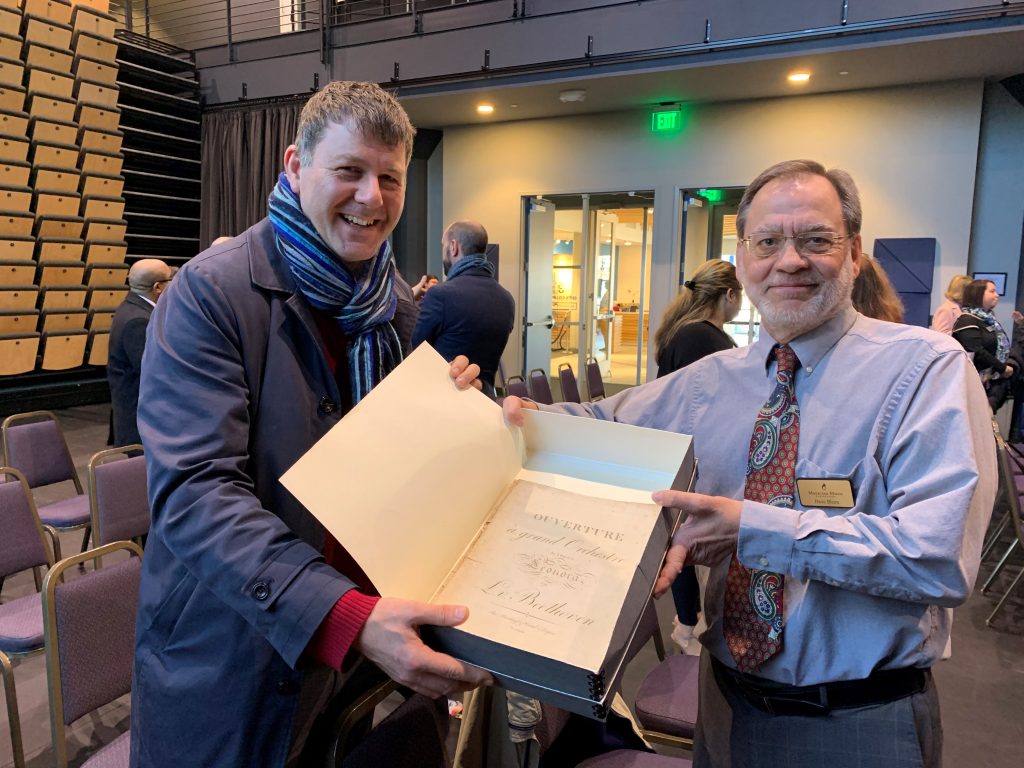 A Partnership of the Moravian Archives
and Moravian Music Foundation

Completing the Online Catalog
Newly Edited Anthem from Original Manuscript
---
---