While not founded by Moravians, the C. F. Martin Guitar Company, est. 1833, thrived in the 19

th

and 20

th

centuries in Nazareth, Pennsylvania, a Moravian settlement.
MARTIN GUITAR
C. F. Martin & Company (often referred to as Martin) is an American guitar manufacturer established in 1833 by Christian Frederick Martin. It is highly respected for its steel-string acoustic guitars and is a leading manufacturer of flat top guitars.
C. F. Martin was born in 1796 in Markneukirchen, a small town in Germany historically famous for building musical instruments. He came from a long line of cabinet makers and woodworkers. His father, Johann Georg Martin, also built guitars. By the age of 15, according to the book "Martin Guitars: A History" by Mike Longworth, C. F. Martin apprenticed to Johann Georg Stauffer, a well-known guitar maker in Vienna, Austria. Martin returned to his hometown after completing training and opened his own guitar-making shop. However, he soon became embroiled in a controversy between two guilds.
In the early 1800s, European craftsmen still operated under the guild system. The guitar (in its modern form) was a relatively new instrument, and most guitar makers were members of the Cabinet Makers' Guild. However, the Violin Makers' Guild claimed exclusive rights to manufacture musical instruments. The Violin Makers' Guild filed appeals on three occasions—the first in 1806—to prevent cabinet makers from producing guitars. Johann Martin is mentioned in a surviving submission dated 1832.
Although the cabinet makers successfully defended their right to build guitars, C. F. Martin believed that the guild system was too restrictive and moved to New York City in 1833. In 1838, Martin sold his retail store to another music dealer and purchased an eight-acre tract on the outskirts of Nazareth, PA.
In 1859, a plant was constructed on the corner of Main and North Streets in Nazareth, PA. Having undergone numerous expansions, the North Street plant is still used today as a warehouse and shipping location for strings and accessories, as well as the site of Guitarmaker's Connection, a retail supply house for instrument making and repair.
Listed on the National Register of Historic Places in 2018, Martin Guitar includes the Martin Guitar Museum, which features over 170 guitars made by the company over its history.
C. F. Martin, Sr., died on February 16, 1873, leaving to his family and the musical world a fine tradition of guitar making. Succeeding him at the helm of the young company was his son, 48-year-old Christian Frederick, Jr., who was born in Germany.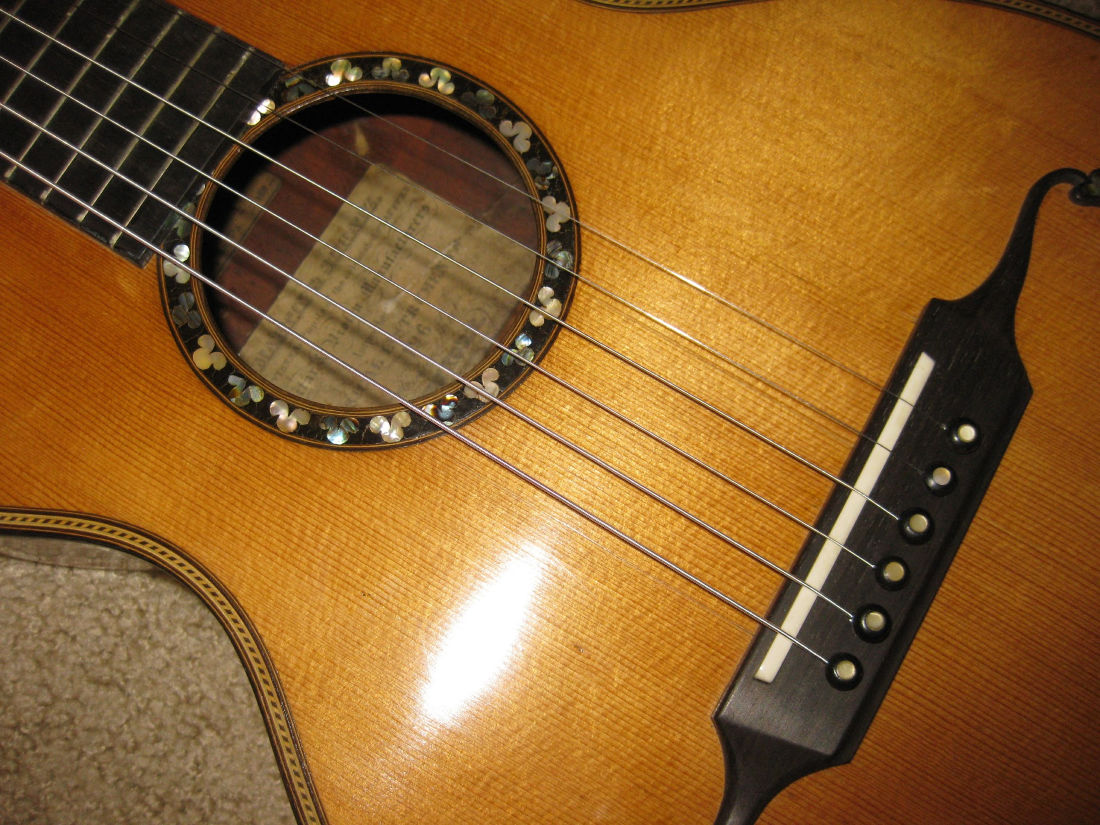 The Guitarphile is a website that collects data of all the existing Martin Guitars in the world.
Anyone may submit their information and photos, confidentially.
To view submissions, go to theguitarphile.com and click on "Guitars."
History of Nazareth, PA (Wikipedia)
In 1735 a small group of the Moravian missionaries had begun work in the newly settled community of Savannah, Georgia. Their intent was to evangelize the Native American tribes and minister to the settlers. Governor Oglethorpe, founder of Georgia, and John and Charles Wesley, founders of the Methodist Church and deeply interested in Moravian ideals, came along on the same boat. The Brethren settled along the Savannah River in Georgia. Like the Quakers, the Brethren refused to take part in the war with the Spanish and, as a result, they were evicted from Georgia in 1739.
George Whitefield, a widely known itinerant preacher who had served for a time as chaplain of Savannah, brought the group of evicted Georgia Brethren north to Philadelphia in his sloop. Whitefield had grandiose plans, and one of them was for a school for Negro children to be established on his tract of 5,000 acres (20 km2) called the Barony of Nazareth. He invited the Brethren who accompanied him to Philadelphia to settle at this location for the time being and hired them to build his school. By the end of June, 1739, the first log dwelling was erected.
The workers struggled, the weather did not cooperate, and winter soon arrived. They quickly erected a second log house. After its completion, word came that Whitefield had returned to Pennsylvania, bristling and angered by theological disputes with certain Moravians, particularly on the issue of predestination. He evicted the Moravian Brethren.
While evicted from the Barony, Moravian leaders in England were negotiating to buy the entire Barony. When Whitefield's business manager suddenly died, Whitefield discovered that his finances, shaky on more than one occasion, would not allow him to proceed with his Nazareth plan. He was forced to sell the whole tract. On July 16, 1741, it officially became Moravian property.
Nazareth was originally planned as a central English-speaking church village. But in October 1742, its 18 English inhabitants departed for Philadelphia. Meanwhile, the Nazareth tract was largely in the hand of Captain John, a Lenape chieftain who (along with his followers) stubbornly refused to leave, even though they no longer owned the land. In December 1742, Count Zinzendorf made a settlement with Captain John, whose tribe moved back into the hinterland.
During 1743, the still unfinished Whitefield House was put in readiness for 32 young married couples who were to arrive from Europe. On the second day of the new year, 1744, the couples went overland to Nazareth to settle in the nearly completed Whitefield House. The Whitefield House and adjacent Gray Cottage now belong to the Moravian Historical Society.
The result was that Nazareth began to increase in population. Enough visitors were attracted to the town that the Rose Inn was built in 1752 on an additional tract to the north. Finally, in 1754, Nazareth Hall was built in hopes that Count Zinzendorf would return from Europe and settle in Nazareth permanently, but he never returned to the Americas. However, in 1759 Nazareth Hall became the central boarding school for sons of Moravian parents. Later it attained wide fame as a "classical academy." This eventually led to the founding, in 1807, of Moravian College and Theological Seminary, now located in Bethlehem. The Nazareth Hall Tract was added to the National Register of Historic Places in 1980.