Many Moravian congregations have an instrumental ensemble of some kind, a brass ensemble or a mixed wind band, or maybe just a band that meets only once a year to play for the Easter sunrise service.
The backbone of traditional Moravian instrumental music is an enormous collection of four-part chorales: many of them shared with other, younger Protestant denominations (especially the Lutherans and Methodists), but a large number of the traditional chorales are uniquely Moravian in origin and usage.
Following the teaching of Jan Hus (Czech Priest), the Moravians relished the idea of singing praises in their own language (disallowed by the Catholic Church of Hus' time) and later, in 4-part harmony, symbolizing the equality of all in the eyes of God and the unity of all as sisters and brothers in Christ. Church leader, Count Nicholas Ludwig von Zinzendorf suggested that one could better judge the health of a congregation by the power of its singing than by the power of its preaching.
Band Books & Chorale Books
The Moravian Music Foundation publishes and distributes "band books" or "chorale books" on this site for use by instrumental winds. Shop Now
The green book and blue book each have distinct collections of chorales. As long as you have at least one on each part: soprano, alto, tenor, and bass (SATB); you will have a complete ensemble, no matter which instruments they are. The "bass tuba" book is a lower octave of the bass part – it is ideal to have both octaves represented in the band. For balance, it is good (but not required) to have equal numbers of brass and/or woodwinds on each part. There is also a descant book available for select chorales. There are conductor scores for both books.
Moravian congregations have also adopted other instruments into worship in various parts of the country and the world, including:
handbells
guitars and other strings
steel drums
others?
---
Everything You Wanted to Know About Moravian Bands (and Trombone Choirs) in America
Frequently Asked Questions about joining a band, starting a band, history of bands, where? and why?, etc.
This page, and much of its content, was created by Erik Salzwedel; please direct comments or additions/corrections to erik@dev.thesignalcompany.com/foundation.
However, much of the information on this webpage is from Mike Allsen, at http://allsenmusic.com/PosaunenchorFAQ.html, and was originally published as part of a website for the Glenwood Moravian Trombone Choir, a group he directed in Madison WI, from 1983-2006. (GMTC has been directed since 2006 by Steve Ash.)
THE BAND
In most Moravian congregations, the church band is a mixed wind band of brass and woodwind. It was not always this way.

The first ensembles in the Americas were SATB trombone choirs.

While there is much Moravian music written for strings accompanying voices, they have never been used "outside." Nor, many of the woodwinds until the late 19th century and on. On the other hand, the brass occasionally joined the "indoor" ensembles for chamber ensembles or to accompany anthems in worship or to perform oratorio and other choral works in concert.
The Moravian instrumental tradition divides the instruments, much like the choir system divided demographic groups in the community. It can be understood from this perspective, that there would be a vocal choir (SATB and others), an orchestra choir (strings, woodwinds), a band choir (trombones, then brass), and maybe we could say a keyboard choir (organ, piano, accompaniment). But, this distinction is not codified as such; I am simply making a correlation.
The early Moravians valued each choir in the community, though each had different needs and offered a variety of talents. Likewise, they valued each musical group, though each had its own distinct needs and gifts to offer.
It is interesting that many of the Moravians played multiple instruments, so a member of the trombone choir (outdoor brass) in the 18th century might play flute or bassoon or cello in the collegium musicum (indoor).
The actual "choirs" of musical service in the late 18th and early 19th century, are:
The choir (choral, vocal) grew naturally out of the fact that everyone in the Moravian communities sang hymns, unless they were playing an instrument at the time. As Moravian composers developed more challenging music (later 18th cent.), there was a need to rehearse with a smaller choir with more developed ears and voices; hence, the church choir.
The band (chorale band, prelude band, funeral band) played together for special outdoor occasions, celebrations, worship services, and the announcement of deaths.
The orchestra (strings, woodwinds) was needed as a lighter sound to accompany the vocal choir's anthems. Also, wooden instruments are not durable in all weather conditions.
The keyboard (piano, harpsichord, organ) for accompanying voices. In the later 19th century, more preludes and featured solo music became the norm.
When valves were developed, brass instruments became more versatile and their repertoire increased, the musicians often writing their own music and arrangements.
The Collegium Musicum actually brought the orchestra together with some of the brass; this is really the impetus for the mixed wind ensembles and fuller orchestrations of the 19th and 20th centuries.
It seems that, while instruments were organized in choirs, they were also limited to specific genders, early on. Apparently, in the early days, women musicians played keyboard instruments (not organ), flutes, guitars, violin or viola. Men played the brass instruments, all strings, all woodwinds, and keyboards, including organ. By the Civil War, there is a theory that women played organ for worship in Salem. It may not have been until the early 20th century that women joined the Moravian Band and began to publicly perform on brass instruments. Throughout the history of the Moravians in America, it is clear that men and women, boys and girls, took music lessons on keyboard and other instruments, and music was integral in the lives of the Moravians.
In the modern day, the bands still fulfill their outdoor role, but have also been invited inside, and this takes many different forms in the various congregations, from solo instrument with organ to brass or woodwind quartet/quintets; from band accompaniment of hymns, to anthems with a wide variety of instruments; etc.
The music can be certainly be played by a modern brass quartet/quintet: trumpet(s), horn, trombone, and tuba. Most Moravian churches conduct an Easter morning Sunrise Service, as it connects us with the tradition begun in Herrnhut, Germany, the site of the first settlement of the Renewed Moravian Church.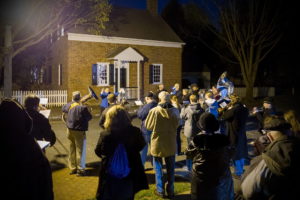 For Easter, the bands from all the Salem Congregation churches and many others in the area, assemble in Salem for the Easter Sunrise Service. Play rounds about 2:00am breakfast 4:30am Service at 6:00am
Reh is Sunday afternoon at 2:15pm at Home Moravian Church, if you want to find out more and join a group.
Play from Chorale Books $6 each for SATB voicing. Alto is the only one in F.
The Southern Province (USA) Bands
There is a funeral band that is called by email to play at the graveside for each funeral. Chorales. Jimmie Snyder of Friedberg Moravian Church maintains the list and sends notices; contact him at to sign up for emails.
In most of the Southern Province, there is a Moravian band at each church, and they are mostly brass, but have winds also, and play exclusively chorales, usually as prelude or in worship. They are all glad to see any new player, and you don't have to be a member.
The Advent Hopewell Moravian Band is a step up from this and performs concert arrangements (70 players) mostly at retirement homes.
The Salem Band, Triad Community Band (formerly, Bethabara Band), WS Community Band, and Salem Community Orchestra are all performing level groups (amateur) and have their own concert series.
Just to play chorales, there is a SUMMER PLAY AROUND BAND at New Philadelphia Moravian Church on Country Club Rd. every Wednesday evening 7:00 – 8:00pm.
Bands of South Africa
A substantial brass band tradition continues in South Africa from its roots in the 19th century.
Continent of Europe
Brass Bands are the tradition throughout European Moravian churches. These Posaunenchoren began as trombone choirs and added valved instruments in the 19th century.
The Brass festivals, brass days, or conferences (Brüderischen Bläsertag) are held ever other year. All are welcome. The next will be Pentecost weekend (Pfingsten) in 2021.
The following is shared with permission of Mike Allsen:
How is the Green Book organized?
There are several sequences of tunes included in the Green Book:
1) The first two thirds of the book (pp. 7-44) is a sequence of over 70 chorales organized by "Gregor numbers" (see below)–if a tune has a Gregor number, this is where it will appear, from 3C "Almsgiving" to 602A "Requiem" though not all Gregor hymns that appear in the Moravian Book of Worship appear in the Green Book. Most of the distinctly "Moravian" hymns in the Green Book appear in this sequence.
(a reprint of Christian Gregor's original 1784 Choralbuch is available from MMF; wherein the numbering system was established)
2) The next sequence (pp.45-57) is organized alphabetically by tune name, and includes tunes that were not in the Gregor Choralebuch–mostly standard Protestant hymn tunes that can be found in many hymnals.
3) On pp. 57-65, there is a collection of standard hymns/carols for Advent and Chrismas, organized alphabetically by their text, "Angels We Have Heard on High," etc.
4) On pp. 65-67, there are five standard patriotic tunes, including "The Old North State," state song of North Carolina!
5) There are six alternate settings for Gregor tunes included on pp.67-69–151A 151G, 167A, 195A, and 230A–including the J. S. Bach settings of "St. Mark" (151G) and "Sleepers Wake"  (230A).
6) The final sequence is brief miscellany: arrangements of Haydn's "The Spacious Firmament on High" (from "The Creation"), Beethoven's "The Heavens are Telling," and the funeral chorale "O Come and Mourn."
What do those numbers in the Green Book mean?
While most newly-composed Christian hymn tunes are given tune names by their composers, many Moravian hymns also circulate with numbers. These relate to the ordering of tunes in Christian Gregor's Choralebuch (1784, with many later editions).  The Choralebuch, which was the standard service book for Moravian communities, was organized metrically, with each number relating to a specific poetic form.  Thus, for example, any hymn with four 13-syllable (7+6) lines could be sung to any tune designated "151."  Where there was more than one tune for a given meter, the Choralebuch simply added letters.  For example, there are about twenty "151" tunes that have been used in Moravian tradition, and several of these are included in the Green Book, from 151A "Passion Chorale" through 151T "Webb," and also a couple of post-Gregor tunes, 151 "Eastham" and 151 "Leinbach."   Experienced Moravian band members often know these tunes almost exclusively by their "Gregor numbers."  As odd as this arrangement sounds, it can be handy for using the Green Book in services.  If your group is called upon to accompany a hymn, it often offers you several options.
Why are some Moravian tunes associated with certain social groups or "choirs" (single sisters, married brothers, etc.)?
This relates to the Posaunenchor's role in traditional Moravian funeral practice. When there was a death in a Moravian community, the Posaunenchor would first play the tune 151A "Passion Chorale" (i.e., O Sacred Head, Now Wounded), which would announce that a death had occurred.  The next tune would tell all who were listening what segment of the community the dead person had come from:
– 39A "Confession" = little boys
– 82D "Hayn" = little girls
– 23A "Upsala" = older boys
– 14A "Esslingen" = older girls
– 185A "Covenant" = single men
– 37A "Gregor" = single women
– 83D "Confidence" = married men
– 79A "Innsbruck" = married women
– 132A "Decius" = widowers
– 149A "Nassau" = widows
---
LINKS of INTEREST
Moravian Brass Festival in Neuwied, Germany (June 2019)
Brass Band Union of South Africa
Moravian bands in church music
---
Band Book Lists
Full lists of the tunes in both the GREEN and BLUE band books: by Tune Name and by Hymn Name . These lists also include which key the tune is in, and what page the tune appears in the blue 1995 Moravian Book of Worship, as well as the older Red and Black editions of the Moravian hymnal. Many thanks to Jill Bruckart for these lists!
Band Books for sale from MMF WEBSITE