A Moravian Music Weekend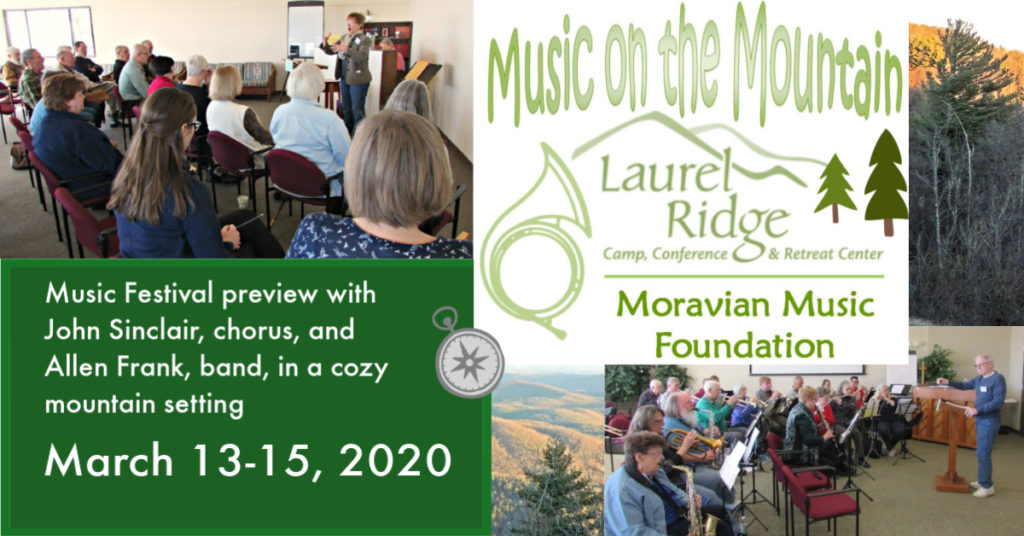 an opportunity to make music together, to worship, to learn, and to enjoy fellowship in a casual mountain setting with cozy accommodations and delicious meals included.
March 13 – 15, 2020
This is a
Festival Preview Event
We will be singing anthems and playing some of the band music to be part of the 26th Moravian Music Festival in Bethlehem, July 18-24, 2021; led by two of the directors of the Festival, John Sinclair and Allen Frank.
Participants are then invited to record the anthems we have prepared! The one recording session will be Monday evening, March 16, 6:30pm at King Moravian Church, King, NC. Drake Flynt will conduct.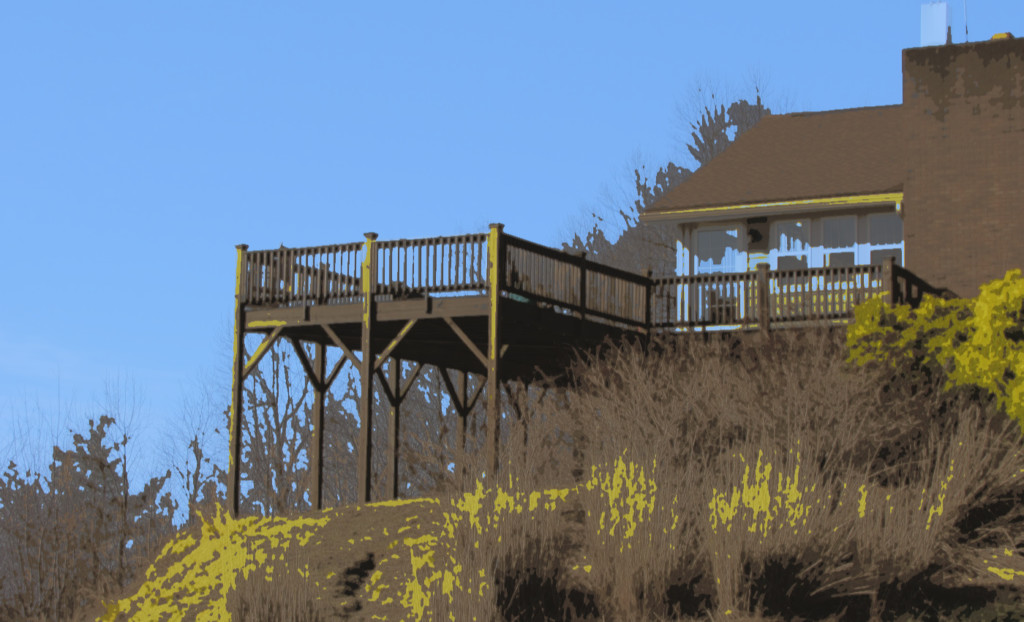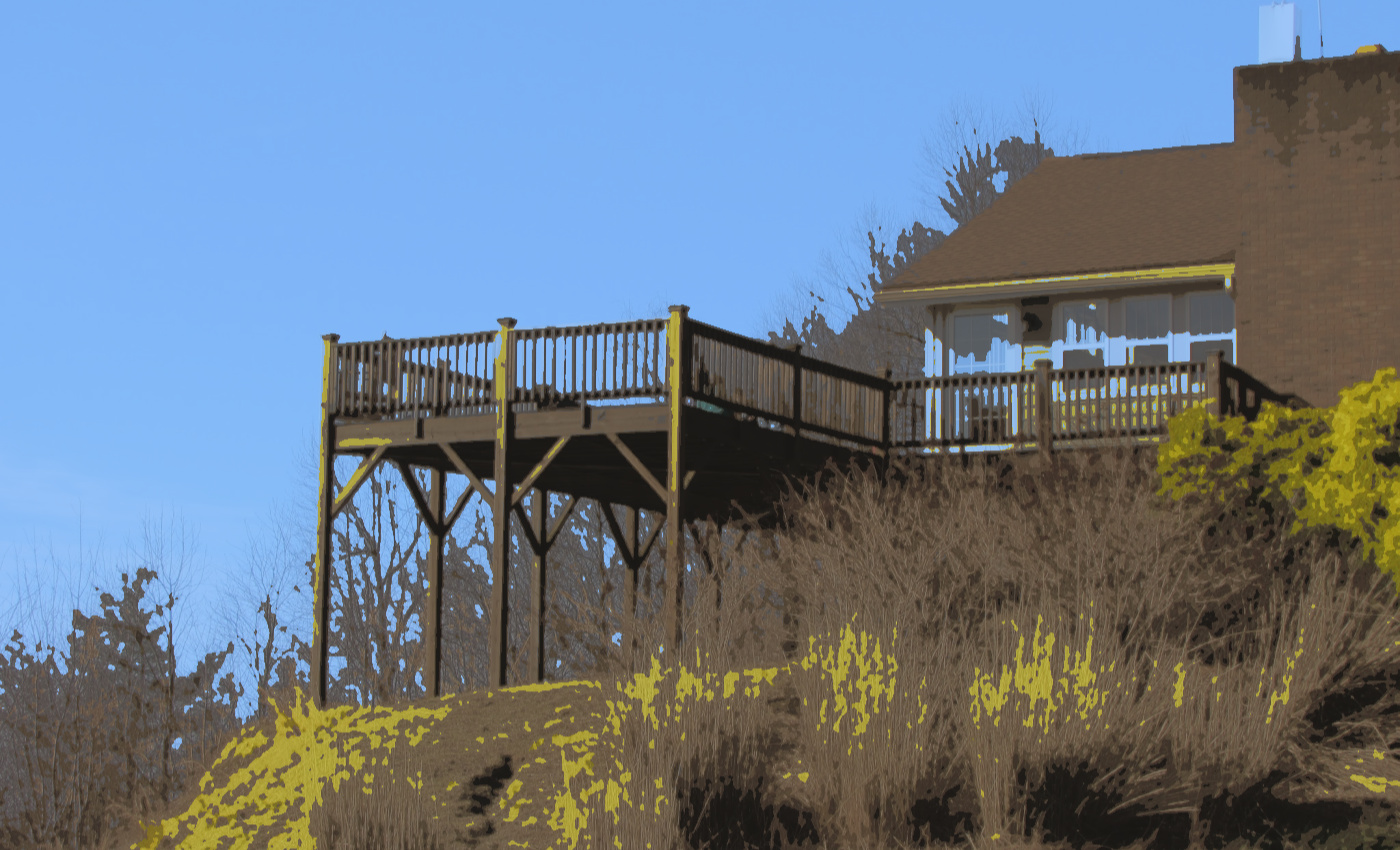 Laurel Ridge
Camp, Conference & Retreat Center
Laurel Springs, NC
TWO TRACKS: Choral and Instrumental – or, you may do a little of both.
Presented by Laurel Ridge and the Moravian Music Foundation
---
---
Easy Registration & Reasonable Rates! Please Register by March 2 !
To register, please phone Laurel Ridge at 336-359-2951 or
Toll Free: 888-831-5922
or mail in the registration form, below.
LINKS PROVIDED HERE:
Music-on-the-Mountain-Brochure-2020

Moravian-Music-on-the-Mountain-REG-FORM-Only-1

---
Questions or concerns to MMF at 336-725-0651
info@laurelridge.org
If you would like to contribute to the offering at Mountain Laurel Fellowship, please see an usher on Sunday morning or mail donations to Mountain Laurel Fellowship, PO Box 104, Laurel Springs, NC 28644.
---
General Daily Schedule is posted, below
(subject to changes).
Notes from Nola – Why Go to a Moravian Music Weekend?
You know, there are almost 3,000 names/addresses on the Moravian Music Foundation's mailing list. And, for Music on the Mountain, since 2011 we've had an average attendance of about 60 people. That means that even if we'd had a completely different group of attendees each year, only about 480 people would have yet attended this wonderful weekend of music-making! And you know, we don't have a completely different group of participants each year; in fact, many come year after year, and I think there are a handful who haven't missed a single one!
If you've been before, we hope you'll come back again March 13 – 15; if you haven't been, then now's the time to make your plans to come for the first time!
Who comes? Band players … choir singers … and listeners. No one need audition; no one will be singled out or embarrassed; everyone goes away encouraged, built up in faith and in musical experience, and in joy. And of course, there'll be plenty of opportunities for conversation amongst the participants and time to talk to the Music Foundation staff about all those things you've been meaning to ask us …
Band players have a chance to play chorales and other music with a full band, under a different director each year, with a different experience than can happen in your church band. You'll learn new techniques (and new jokes), and strengthen friendships. Pick up your horn, your chorale books, and your folding music stand and come along!
Choral singers have a chance to sing through a group of anthems and learn a few to sing in worship on the Sunday morning, also with a different director each year. You'll learn music that's new to you, gain insights into choral singing from your director, and sing with different people than you sit beside week after week. And if you don't in a choir regularly, that's just fine too!
Listeners are those folks who just love to be on the mountain, but don't want to participate in the band or choir. Some have spouses or roommates who are participating; some just come to be present and hear all the music making.
Let's fill Higgins Lodge with music! See you on the mountain!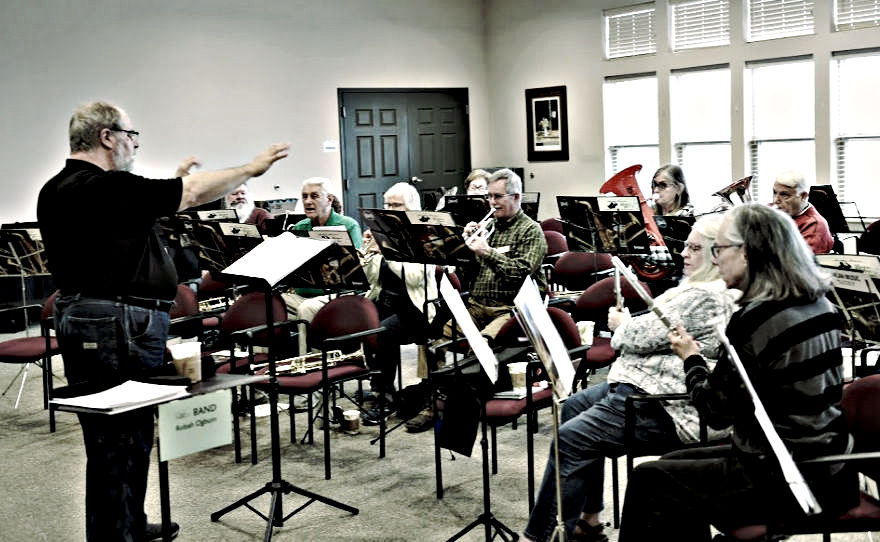 MUSIC LEADERS
Choral Leader – John Sinclair, Moravian Music Festival Chorus and Orchestra Director; Music Director of the Winter Park Bach Festival; faculty, Rollins College (FL)
Accompanist – Montine Pfohl Wilkinson
Band Leader – Allen Frank, Moravian Music Festival Concert Band Director; Assistant Director of Bands, Liberty High School (PA); member of the Main Street Brass.
Devotions – The Rt. Rev. Sam Gray
Moravian Music Weekends were created to give participants an opportunity to make music together, to worship, to learn, and to enjoy Moravian fellowship.
Schedule
Friday
4 – 6:00pm Registration
6:00 pm Supper
7:15 – 8:15pm Playing & Singing
8:20pm Evening Devotions
Saturday
8:00am Breakfast
9:00am Devotion
9:30 – 11:30am Playing & Singing
12:00 Lunch
1:15 – 2:15pm Playing & Singing
2:30 – 6:00pm Free Time
6:00pm Supper
7:00pm Sharing Our Talents
(fun talent show (opt.) all-invited; casual; musical or non- ; groups or individual)
7:45 – 8:30pm Playing & Singing; Each Group shares with the other.
8:45pm Worship
Sunday
8:00am Breakfast
9:00 – 9:45 am Playing & Singing
9:45am Pack and Check-Out
11:00 a.m. (optional) Worship with Mountain Laurel Moravian Fellowship, just a few miles away, at Transou UMC, P.O. Box 104, Laurel Springs NC 28644 (street address: 191 Transou Church Rd, Laurel Springs, NC) www.mountainlaurelfellowship.com
12:00 Safe travel home!
REGISTRATION
Commuter
(Tuition, music, 2 suppers, 1 lunch)
per person $90
Resident (Tuition, Room, all meals)
Salem Wing:
single occupancy, per person $268
double occupancy, per couple $374
Bishops Wing:
single occupancy, per person $248
double occupancy, per couple $354
Note: We can adjust rates, if a couple wants to attend the weekend, but only one will participate in music activities.
Friends Cottage (great for a family!) Call
NOTE: Information, rates, and schedules are subject to change. Please check back or call for the latest updates.