MUSICIANS of the
WINSTON-SALEM SYMPHONY
in CHAMBER CONCERT!
Beethoven's "Pastoral Sextet"
December 16, 2020
7:30pm (EST-USA)
Live-Streamed
from the Recital Hall of
Moravian Music Foundation
Drei Equale Ludwig van Beethoven
____ Four-part music for trombones
Symphony No. 6 "Pastoral" Ludwig van Beethoven
____ Fischer transcription for string sextet
We may not know Beethoven's exact birthdate, but we know that it was mid-December in 1770. In honor of the great composer's 250th birthday and the community-wide BTHVN Rocks Winston-Salem collaboration, the Winston-Salem Symphony and the Moravian Music Foundation are coming together for this special performance.
The Moravian Music Foundation has a rare 1st edition of Beethoven's Sixth Symphony in its archives; musicians will be playing from a 1st edition of the Fischer transcription. This concert celebrates 1st editions of Beethoven's Music at the Moravian Archives, in the Salem Collegium Musicum Collection of the Moravian Music Foundation.
Information about the first edition of the full orchestral Pastoral Symphony in the Moravian Archives.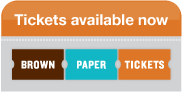 Tickets for access to this special concert livestream
ONLY $20 per device
(plus tax & fee)
LINK
Brown Paper Tickets will securely transact your purchase.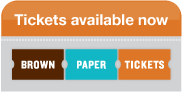 You will receive a link by email from the Winston-Salem Symphony to the concert live-stream.
www.wssymphony.org
Concert will be about 1 hour in length.


Brown Paper Tickets Ticket Widget Loading…

Click Here to visit the Brown Paper Tickets event page.
---
For tickets to the entire season of the
Winston-Salem Symphony
Stage Pass
---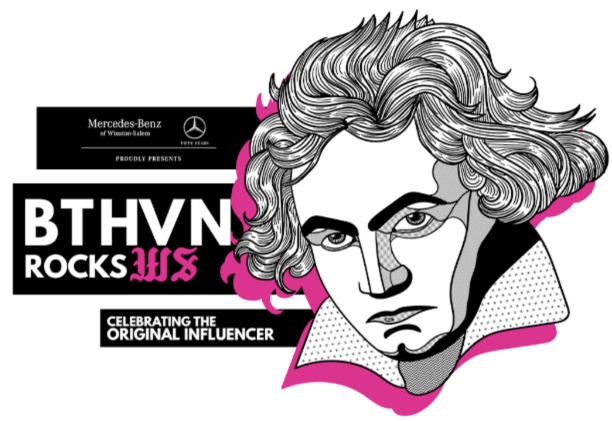 BTHVN Rocks WS is a city-wide collaboration of arts organizations to showcase the genius of Ludwig van Beethoven.
---
More Concert Information:
The Moravian Music Foundation (MMF) will host a live-streamed chamber music concert featuring music of Ludwig van Beethoven. On Dec. 16, musicians from the Winston-Salem Symphony will perform a string sextet arrangement of Beethoven's Sixth Symphony in F Major "Pastoral" (op. 68, 1808). The arrangement is by Michael Gotthard Fischer, a contemporary of Beethoven.
Learn more about Moravian music – publications, recordings and videos – and all of MMF's concerts at www.MoravianMusic.org and on Facebook.
In celebration of the 250th anniversary of the birth of Ludwig van Beethoven (1770-1827), Moravian Music Foundation Research Librarian, David Blum, made some fascinating discoveries of several first editions of Beethoven's music in the Moravian archive collections in both Winston-Salem and Bethlehem, PA!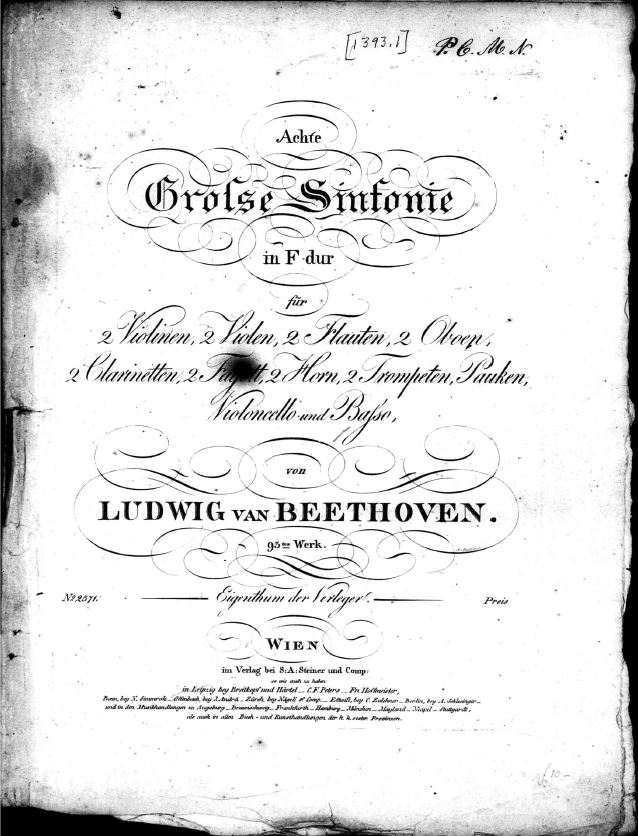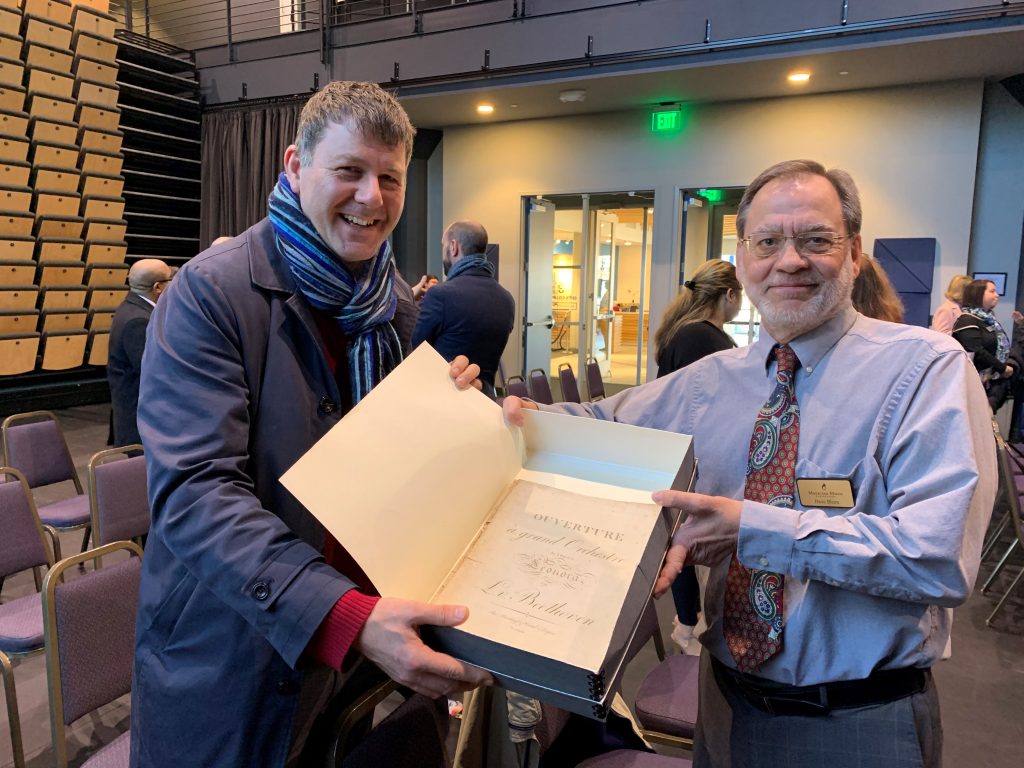 The first such realization was a first edition of Beethoven's 6th Symphony (known as the "Pastoral Symphony") in an 1809 edition by Breitkopf & Härtel (Leipzig) based on printing plate numbers found on the publication.
Since that first realization, David has examined other Beethoven scores to find that the Moravian Music Foundation holds as many as five first editions: the 8th (1817) and 9th (1826) Symphonies, "Weihe des Hauses" (The Consecration of the House Overture, 1825), and the overture now known as the Leonora #3 (1810).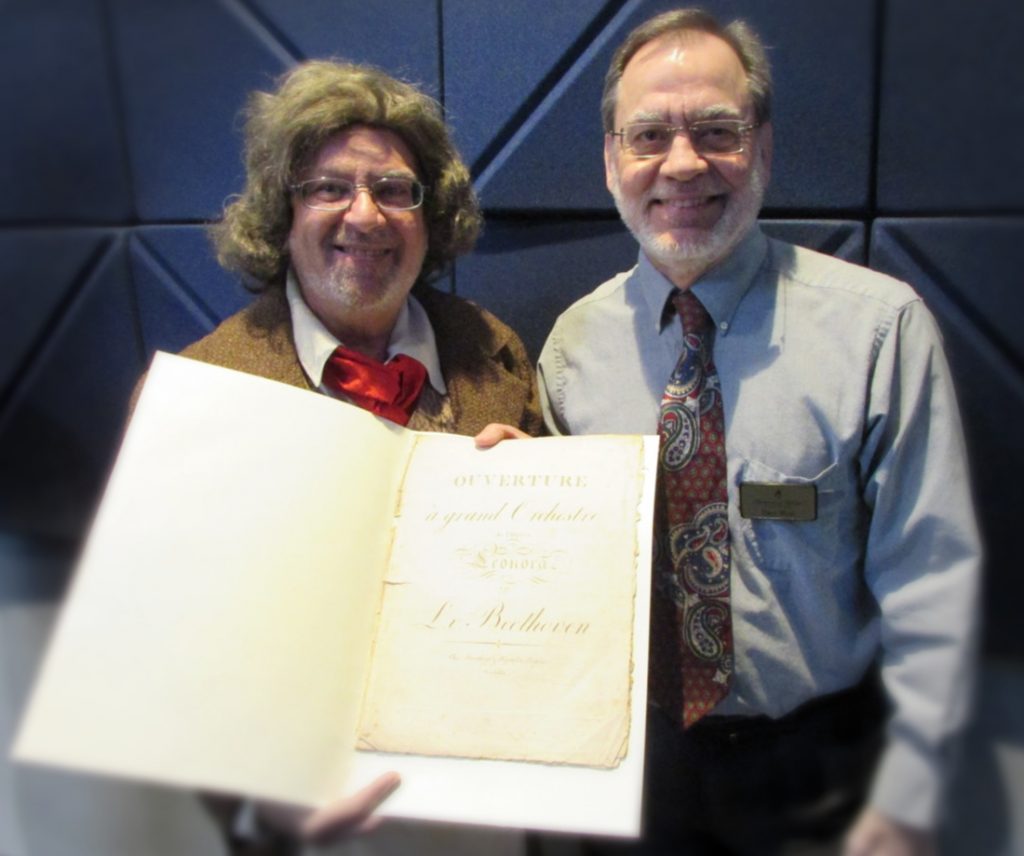 Beethoven's
Overture
to Leonore
No. 3
David Levy with Dave Blum