Moravian Music Concert
Beethoven in Bethlehem

Friday, April 23, 2021
1:00pm (US; EDT); 17:00 UTC

Trio for Strings No. 2 in D minor …… Moravian composer John Antes (1740-1811)
the first chamber music composed by an American; composed while Antes was a missionary in Egypt

Symphony No. 4 in Bb major ………….. Ludwig van Beethoven (1770-1827)
arranged for chamber ensemble by Johann Nepomuk Hummel
for piano with accompaniment by flute, violin, and cello

This concert honors the 250th birthday of Beethoven by using a major work found in the Philharmonic Society of Bethlehem collection!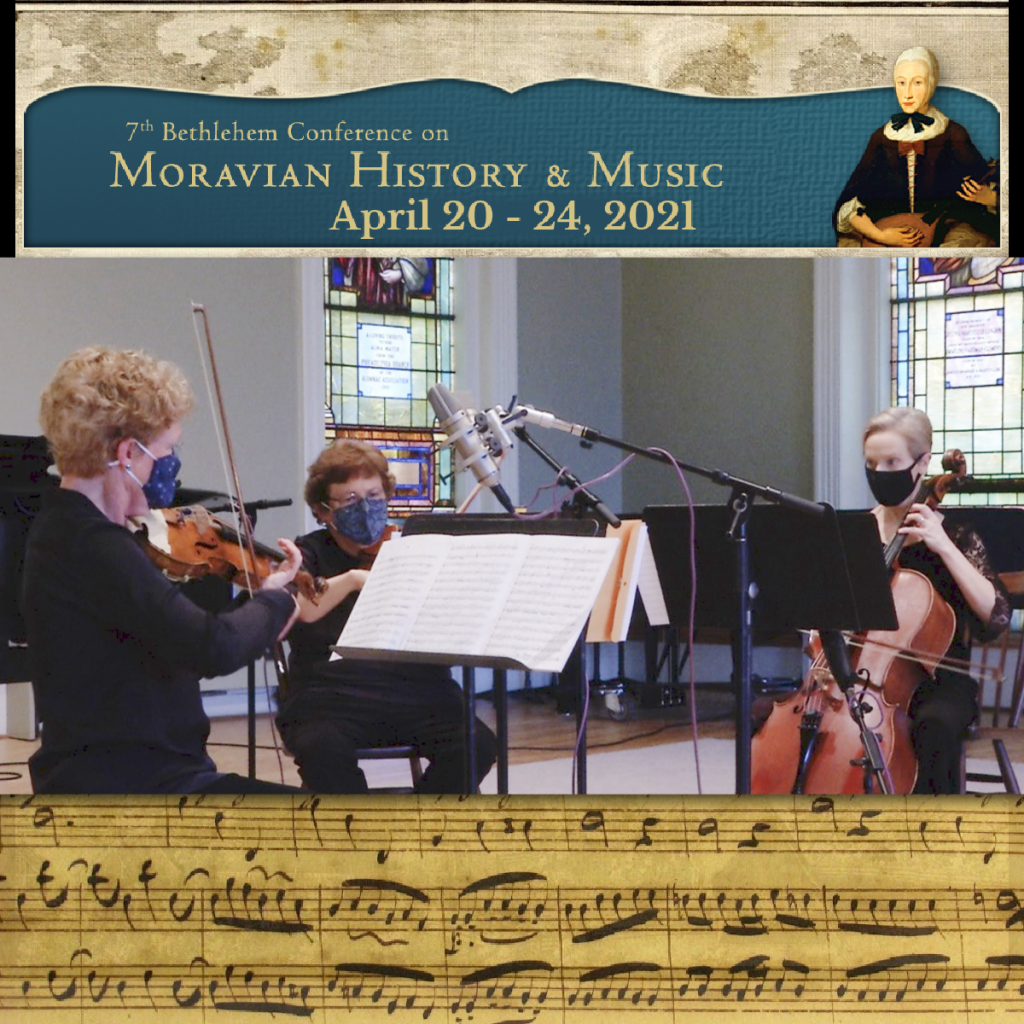 FULL CONCERT PROGRAM
Click the upper right corner of the tool bar for full-screen view.
This concert was sponsored by the Moravian Music Foundation.
Registration Required
To view/hear this special concert, please register for the
Bethlehem Conference on Moravian History & Music
Registration is free; donations accepted.
More Info
Register at www.MoravianConferences.org and you will receive the link to the concert and to all the sessions. You may also make a donation to help the conference offset its expenses!
While the conference features many scholarly presentations of new research, most will also be of interest to the "non-scholar" who just loves history or music, and the conference attendees always include both academic and non-academic listeners.
The Moravian Music Foundation has several special offerings during the upcoming 2020 conference.
Sessions on Musical Topics by:
Nola Reed Knouse, Ph.D., Moravian Music Foundation
Dave Blum, Moravian Music Foundation
Donna Rothrock, Ph.D.
Sarah Eyerly, Ph.D.
Alice Caldwell, Ph.D.
Stewart Carter, Ph.D.
Laurence Libin, Ph.D.
Christina Ekström, University of Gothenburg
Devandré Boonzaaier, University of Fort Hare
Tom Gordon, Memorial University of Newfoundland
and more…
Schedule and Events are Subject to Change
Registration for the conference and more details and updates are at
http://www.MoravianConferences.org.
---
---
INFORMATION FROM PREVIOUS CONFERENCES:
NOT APPLICABLE FOR 2021 VIRTUAL CONFERENCE
There are special rates for students and seniors. The Conference Banquet on Saturday evening requires a separate ticket; and bagged lunches for Friday and Saturday may also be purchased in advance, during the registration process.
Schedule and Events are Subject to Change
Conference tickets include all lectures, presentations, panels and performances; an opening reception on Thursday; and a concert presented by the Moravian Music Foundation on Friday evening; the Moses Lecture in Moravian Studies on Thursday and the Moravian Historical Society Lecture and Reception on Saturday.
Schedule and Events are Subject to Change
There will be so many events that the hardest part will be making your choices – concurrent sessions mean you can't actually hear every single presentation of the conference! Look at the conference schedule online when you go to register, and start thinking about what you most want to hear. It promises to be a wonderful few days of listening, conversation, and learning!
The Bethlehem Conference on Moravian History and Music actually has its origins with the first Bethlehem Conference on Moravian Music that took place in 1995, focusing on the contributions of organ-builder David Tannenberg. This conference was such a success that another was held two years later, and another, and then it was decided to expand it into a joint conference on Moravian history and music every two years in the fall. This 7th such joint conference will explore Moravian history and music from the 15th to the 21st centuries, in Europe, the Americas, Asia, Africa, and Australia.
We hope to see you in Bethlehem!