The Moravian Brass Band Union of South Africa
The BBSA is celebrating its 70th Anniversary this year, online, so everyone may view and listen!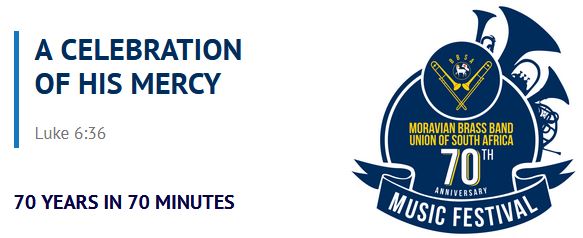 EXTENDED TO NOV 30!
And, you get to view the virtual band video of over 200 brass players, including those from the US!
Lend your support and participation to our friends of the Brass Band Union of South Africa!
Want to hear glorious brass music played by large ensembles of Moravians
from stunning and beautiful locations throughout all of South Africa,
but cannot manage to get there?
It's very easy to view all the music and support the Brass Band Union of SA (BBSA) at the same time, during their 70th Festival (in a year they are unable to convene in-person). They have spent the last several months, and hundreds of hours, recording musicians at several locations, playing a variety of great arrangements.
You will need a ticket.
Very easily purchase online through Quicket with – Visa or MC – US credit card (I just bought two -Erik) The price is only R125 (ZAR – South African rand) which is about $8.50 (secure online CC payment). (If there was a conversion fee, it was pennies on my card.)
details of the ticket purchase:
go to https://bbsa70th.com/
Click on "buy tickets now"
Wait for the spinning Q
Then click on "Tickets"
Enter some info, then click "complete my purchase"
Enter credit card info. Visa or Mastercard.
Quicket makes the currency conversion and charges your card, accordingly in US$.
You will receive an email confirmation with tickets, but will also receive an email with the direct link to view the Festival. Emails and CC charge will say "Quicket"
You will have access to view the production online for 7 days!
questions to erik@moravianmusic.org
The Festival will consist of music recorded across the country of South Africa, played by musicians in small groups in carefully and specifically chosen historical locations! A virtual band video with over 200 players will also be featured!
The festival consist of well-known musical items like, " Heal the World", "The Prayer" arranged by a member of our union, Leon Afrika and a composition based on our theme 'a Celebration of HIS Mercy' by Alex Hitzeroth
The Production Team worked tirelessly and relentlessly to ensure successful and enjoyable recordings, a job well done and commendable!
As a special feature, Moravian brass and wind players in the USA were invited to join the virtual band video project, and several did! All details provided at the link below.