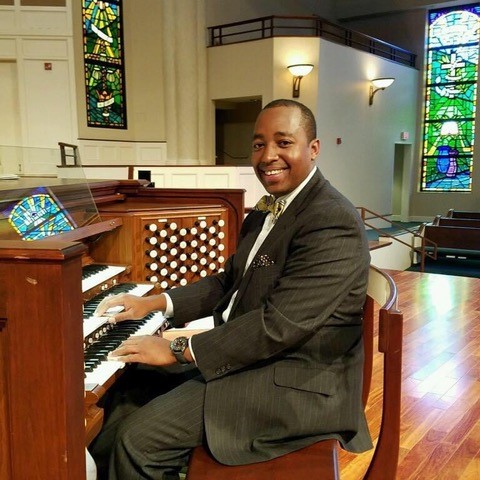 Jonathan Williams
Jonathan D. Williams serves as Organist at Home Moravian Church.

Previously he has served as Director of Music/Organist at Kernersville Moravian Church and Organist/Accompanist at Ardmore Baptist Church – Winston-Salem, NC where he chaired Arts at Ardmore, a visual and performing arts series, and organized and performed in the biennial Keyboards at Christmas. Prior to his position at Ardmore Baptist Church, Jonathan served for seven years as organist/choirmaster at Thomasville United Methodist Church – Thomasville, AL.

Jonathan studied organ performance with Faythe Freese at the University of Alabama where he won the AFMC – Sarah Caldwell Lee Organ Competition at Samford University and the Clarence Dickinson Organ Festival Competition at William Carey University. Additional musical study includes: organ studies with Thomas Hazleton and Robert MacLeod, violin with Thomas Wood at the College of Wooster, and piano with Margaret Baxtresser and Antoinette (Toni) Glauser. His undergraduate studies were conducted at The College of Wooster where he played in the Wooster Symphony Orchestra and Chamber Orchestra in addition to accompanying Theater and Ballet/Dance courses.

An active member of the American Guild of Organists, Jonathan has served as the Sub-dean of the Piedmont NC Chapter, regularly performs in the Sounds of the Summer Organ Series, and helped to plan the 2022 AGO Pipe Organ Encounter hosted at UNC School of the Arts. He is a featured artist in the Robin MacDonald & Valerie Pope Burnes book Visions of the Black Belt: A cultural survey of the Black Belt. Never one to shun the opportunity to serve his community, he is Treasurer and member of the Board of Trustees for the Moravian Music Foundation. Jonathan is married to Catherine (Cady) née King and has one son, Archibald James.

Mr. Smith is currently Extraordinary Professor of Voice and Coordinator of Voice Studies at Loyola University of New Orleans. He received his doctorate in Vocal Performance from the University Houston's Moores School of Music. He holds a Masters of Music from The University of North Carolina at Greensboro and a Bachelor of Music from Southeastern Louisiana University. His teachers have included Scharmal Schrock, David Holley, Joseph Evans, and Bill Shuman.