Description
Joy of the Road:
Music of Charles G. Vardell
CD  MMFR2101                   Sample Excerpts
© 2021 Moravian Music Foundation
Barbara Lister-Sink, piano
Warwick Lister, violin
Uniquely evocative, impressionistic, and enjoyable American music!
Charles Vardell (1893-1962) was a nationally celebrated composer, an accomplished organist, a beloved teacher, an able and respected administrator, and an arts visionary.
Dean of the School of Music, Salem College (Winston-Salem, NC, USA) from 1928 to 1951.
Dean of the School of Music, Flora MacDonald College (Laurinburg, NC, USA) as it became St. Andrew's College.  1952 – 1962
THE MUSIC
From a Mountain Walk, six sketches for piano
The Cherry Grove Suite
Nocturne for piano
Sonata for Violin and Piano in A Major
Recorded in Shirley Recital Hall, Salem College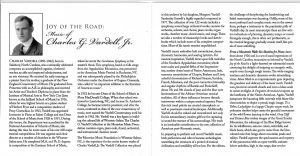 Some recordings were completed in 2019, others, during the pandemic in 2020, as witnessed by these photos, with the producer connected remotely.