---
SLIDESHOW
---
---
---
Reception in Bethlehem, PA
Reception in Winston-Salem, NC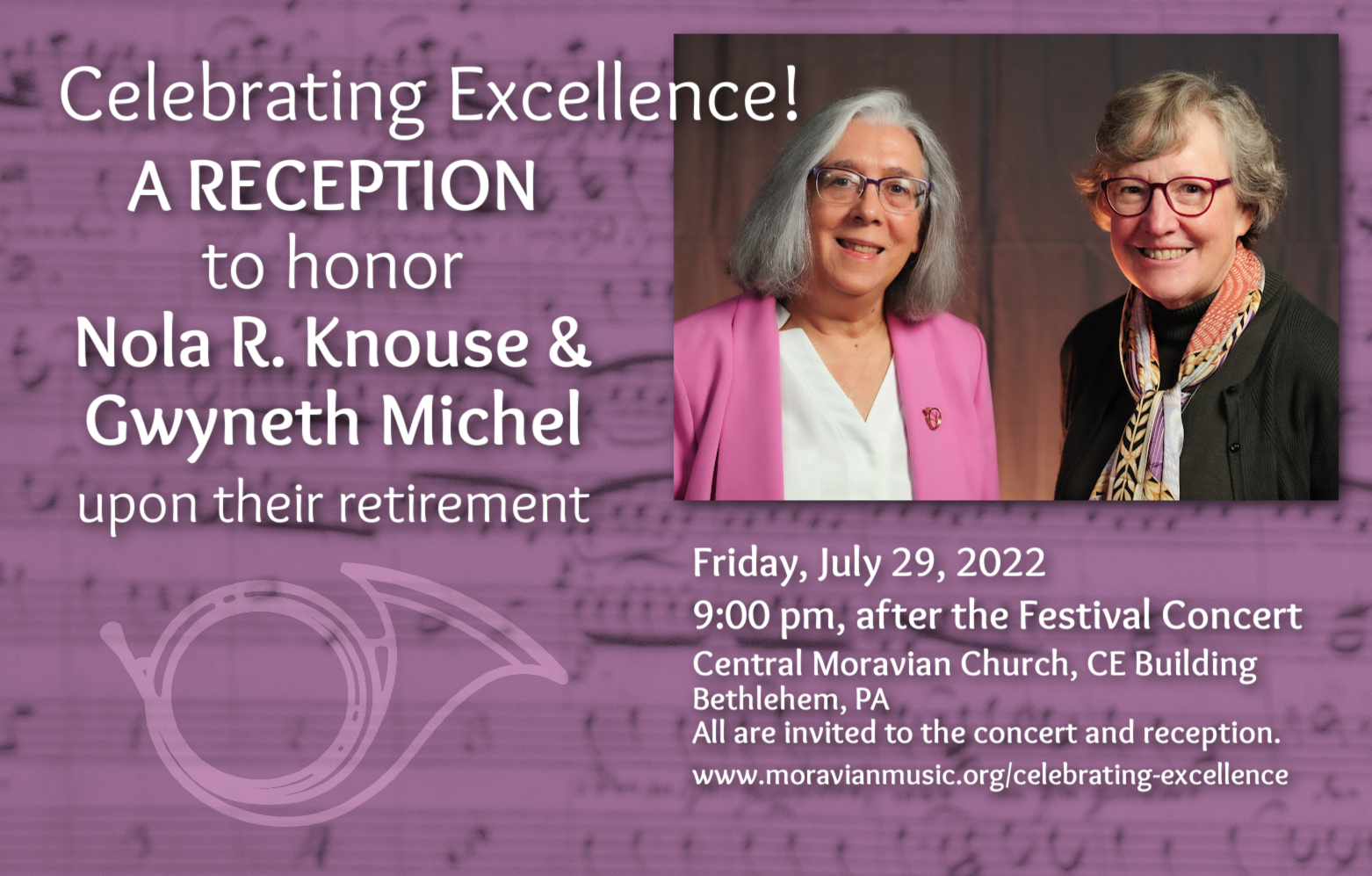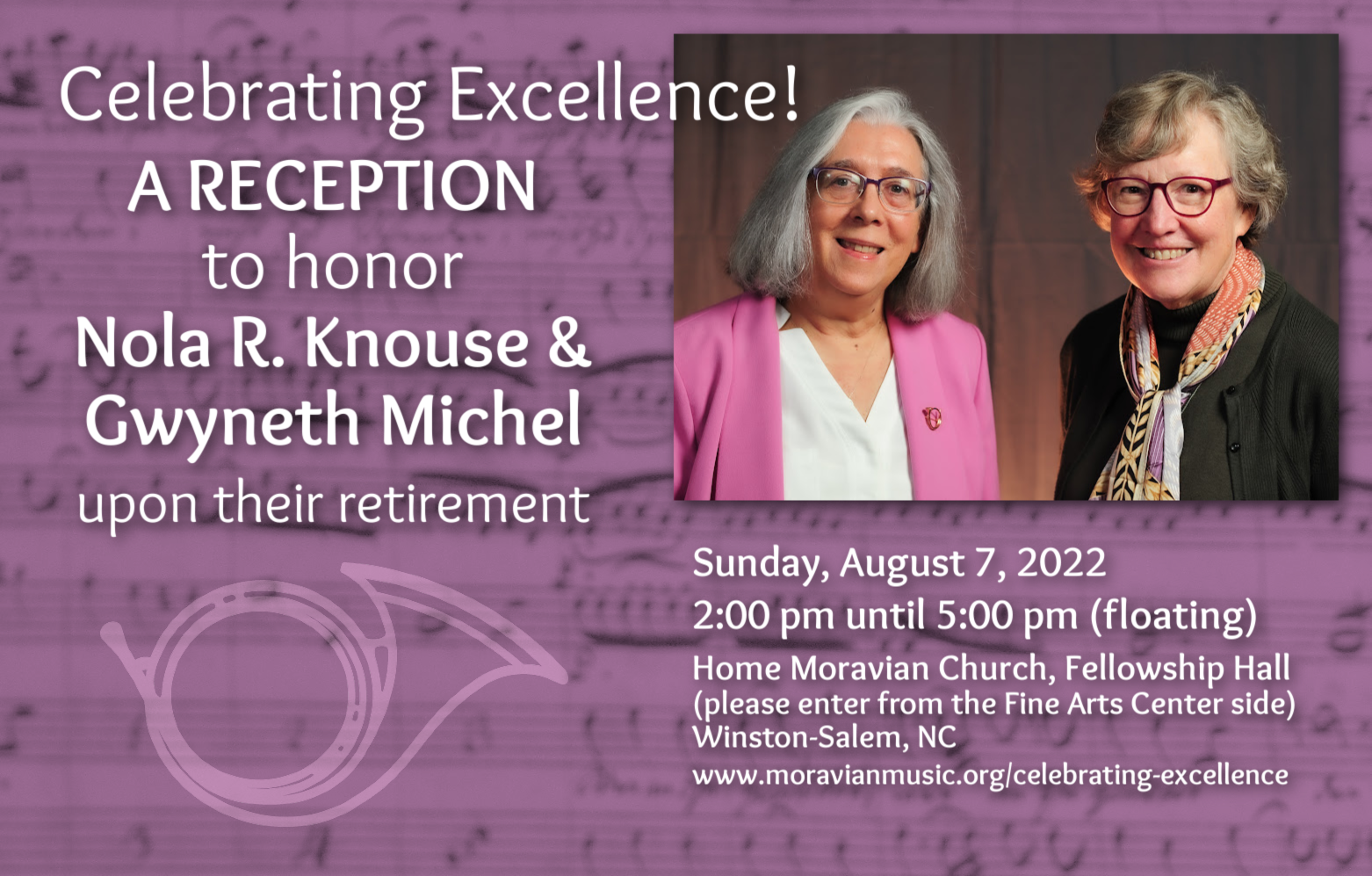 ---
---
To the extent that time allowed, Nola Knouse has continued scholarly work, editing and writing:
The Music of the Moravian Church in America (published 2008),
and nearing completion of:
Preserving, Sharing, Celebrating;
A History of the Moravian Music Foundation.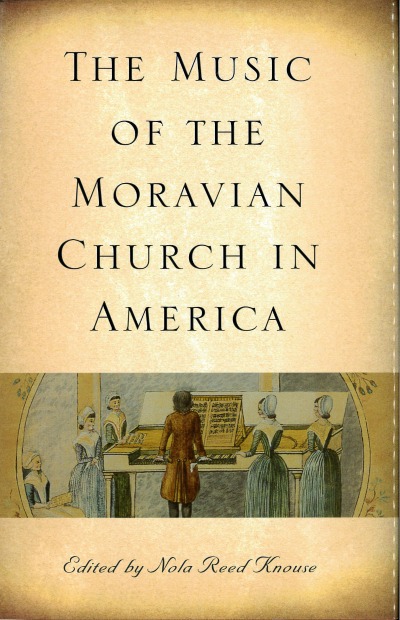 ---
Nola has affirmed that all of these things could happen only with a great staff and a supportive Board of Trustees, recognizing that it takes a group of dedicated and gifted people to do things like these, and MMF has been richly blessed, in both the staff members and the Board. The trustees also all agree with Nola that none of these things could have happened without our donors and friends.
---
---
Dear Friend of the Moravian Music Foundation,

Leadership is core to the essence and success of unique organizations. Strong leaders create an environment for its direction and depth. The Moravian Music Foundation has been fortunate to have had many core leaders among our directors who have guided the Foundation, brought vision to our musical world, and connected with our supporters and friends.

I am writing to announce the upcoming retirement in August 2022 of two such exceptional leaders within our organization: Rev. Dr. Nola Reed Knouse, Director, and Gwyneth Michel, Assistant Director. On behalf of the Board of Trustees, I extend our heartfelt gratitude and appreciation for the dedication of Nola and Gwyn, who have served 30 years and 15 years, respectively. We congratulate them on the achievements of long and productive careers and wish them well as they transition to a well-deserved retirement. We have been blessed by the work they have done and the direction they have set for the Foundation.

Through Nola's and Gwyn's leadership and your support, the Foundation has continued to preserve, share, and celebrate our unique Moravian musical life, which has become such a strong part of our faith and worship. Change is inevitable, but the vision of the Foundation will continue under the direction of new leadership. We will embark on a rigorous national search over the next few months. We are fortunate to be able to build on the strong history of the Foundation as we continue to preserve, share, and celebrate the music of the Moravians.

Sincerely yours,
G. Randall Gibbs, President
Moravian Music Foundation Board of Trustees