Moravian Music Sunday 2020
In light of current guidelines, we encourage churches to choose their own Sunday to feature Moravian Music!
Easily planned with provided resources and materials for a worship experience for your congregation.
This page and shared resources will remain active throughout 2020.
Sing to the Lord,
All the Earth!
Tell God's Salvation
from Day to Day!
On this day, set aside to acknowledge our Moravian musical heritage,
we lift our hearts and our voices in praise and thanksgiving.
The Moravian Music Foundation provides all the materials for a service featuring and celebrating Moravian music: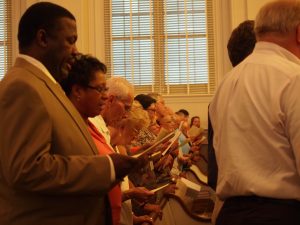 These links will open a page with all the documents and materials:
Liturgy for Moravian Music Sunday
Anthem
all items are easily downloadable on our Moravian Music Sunday PAGE
Through our singing we respond to this God in faith, in love, and in hope. Whether we're singing old songs or new ones – whether we're charming the angels with our song or can't carry a tune in a bucket – we're called to praise God with our voices. And as we sing and hear one another, we are called to praise God for God's actions and for each other as companions in our life of faith.
A special note: May 10 is also Mother's Day. If this date isn't convenient for your celebration of Moravian Music Sunday, please do celebrate it at any time that "works" for your congregation!
We would appreciate receiving bulletins or reports on what you choose to do for Moravian Music Sunday. What you do may serve as a model for someone else.
Many thanks, and may God continue to bless your ministry!