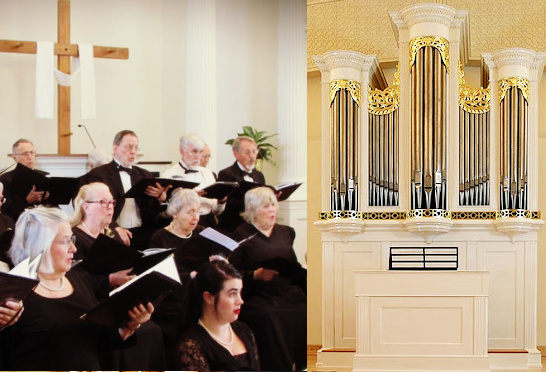 A Celebration of the Tannenberg Organ
Friday, May 12, 2023
7:00pm
CONCERT #1 in the Series of Serenades
Old Salem Visitor Center
900 Old Salem Rd., Winston-Salem, NC
Please join us at the Old Salem Visitor Center in Winston-Salem, for a concert featuring both the 1800 organ and the Moramus Chorale. The program will celebrate the unique approach of early Moravians to music, organ music, and congregational singing.
This concert made possible with the generous support of Old Salem Museums and Gardens (about Old Salem)
Cristy Lynn Brown is the featured vocalist for this concert.
Susan Bates and Mary Louise Kapp Peeples are the featured organ soloists.
The Moramus Chorale is a performing and recording vocal ensemble of the Moravian Music Foundation. They have premiered new works by living composers and presented "first modern performances" of many (newly edited) works by historic composers. Chorale seeks talented singers, with an interest in Moravian music, who welcome a challenge and are committed to excellence.
Director: Drake Flynt, Director of Music at King Moravian Church, and conductor of the Great Sabbath Service of Music and Moramus Chorale. Organist: Mary Louise Kapp Peeples

Pre-Concert Talk
David Tannenberg and the American Organ
Christopher Ogburn, Ph.D., Director of Programming and Resident Musicologist.
May 11, 2023
12:30pm
Archie K Davis Center, 457 S. Church St., Winston-Salem, NC. Free.
This is a precursor to the May 12 concert, with the Tannenberg organ and Moramus Chorale.